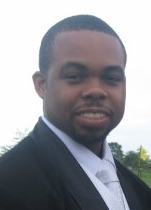 The Pastor
Rev. Lyndon Melvin Berkeley M.Sc., M.O., F.M.P., R.Eng., B.Sc. 
Reverend Berkeley was born in Trinidad and Tobago on the 2nd March 1978. At the age of 42, he has been preaching for twenty-seven years both locally and internationally. As an active pastor since 1999, he has ministered to five churches in Grenada and Trinidad and Tobago. 
Reverend Berkeley served as the President of the Christian Council of Churches of Trinidad and Tobago and still holds the record for being the youngest person to do so. 
A perpetual student he is the holder of an M.Sc. in Engineering Asset Management and a B.Sc. In Electrical and Computer Engineering from the University of the West Indies a Post Graduate Certificate in Facilities Management from Heriott Watt University and a Second Degree Blackbelt in Martial Arts. A Certified Facility Management Professional by The International Facility Management Association (Houston Texas USA), Reverend Berkeley is recognized by the government of Trinidad and Tobago as a Registered Electrical Engineer, a Licensed Marriage Officer, and a Certified Mediator. Theologically trained and prepared for church leadership by the tutelage of Presiding Elders Rev. Dr. Wayne Anthony (Dean of the Windward Island Theological Institute), Rev. Dr. Flemming E. Joseph (Presiding Elder and Senior Pastor), and Payne Theological Seminary.
Reverend Berkeley is  third-generation A.M.E. member who has been raised and nurtured by the African Methodist Episcopal Church. The eldest son of Milton and Albertha Berkeley and The husband of Neyoka, father of Alaura, Lyndon, Daniel, and Sarah, when asked to summarize life in the African Methodist Episcopal Church, he is almost certain to reply, "Not just church… Family".
Ministerial Staff
Licentiate Shelly Ann Paul
Licentiate Vinceroy Priam
Deaconess Board
Deaconess Ann Jules
Deaconess Beatrice John
Official Board Secretary – Rachel Daniel-Jeffrey